Schedule for the Week:
Thursday, Nov. 2: Jazz Auditions, Sign up for time in band room
Saturday, Nov. 4: GBS Hosting ILMEA District 7 Festival
Director's Notes!
Hello Band Families!

GBS is hosting the ILMEA District 7 Festival this Saturday, and we need more volunteers! Any time slot you can sign up for is greatly appreciated. Please help make the day run smoothly and give student musicians a memorable experience! Students can sign up here, and adults can sign up here. If you would like to donate beverages or baked goods, you can sign up for that here.

Jazz auditions are this Thursday! Music is available in the band room. Everyone in the band program is invited to sign up for an audition time in the band room! Jazz Band rehearsals will be held every Thursday, beginning November 9th from 4:30pm until 7:30pm.

If you have any questions, please feel free to contact me!

One Band, One Family!

Mr. Brian Boron, Band Director, bboron@glenbrook225.org, 847-486-4437

FOLLOW THE BAND ON INSTAGRAM! Search for "gbsbandprogram" and "gbs_color_guard" to see what's happening in Band!
Noodles Fundraiser
Our next restaurant fundraiser is on
Wednesday, 11/1 – 4-8 p.m.
Old Orchard location only!!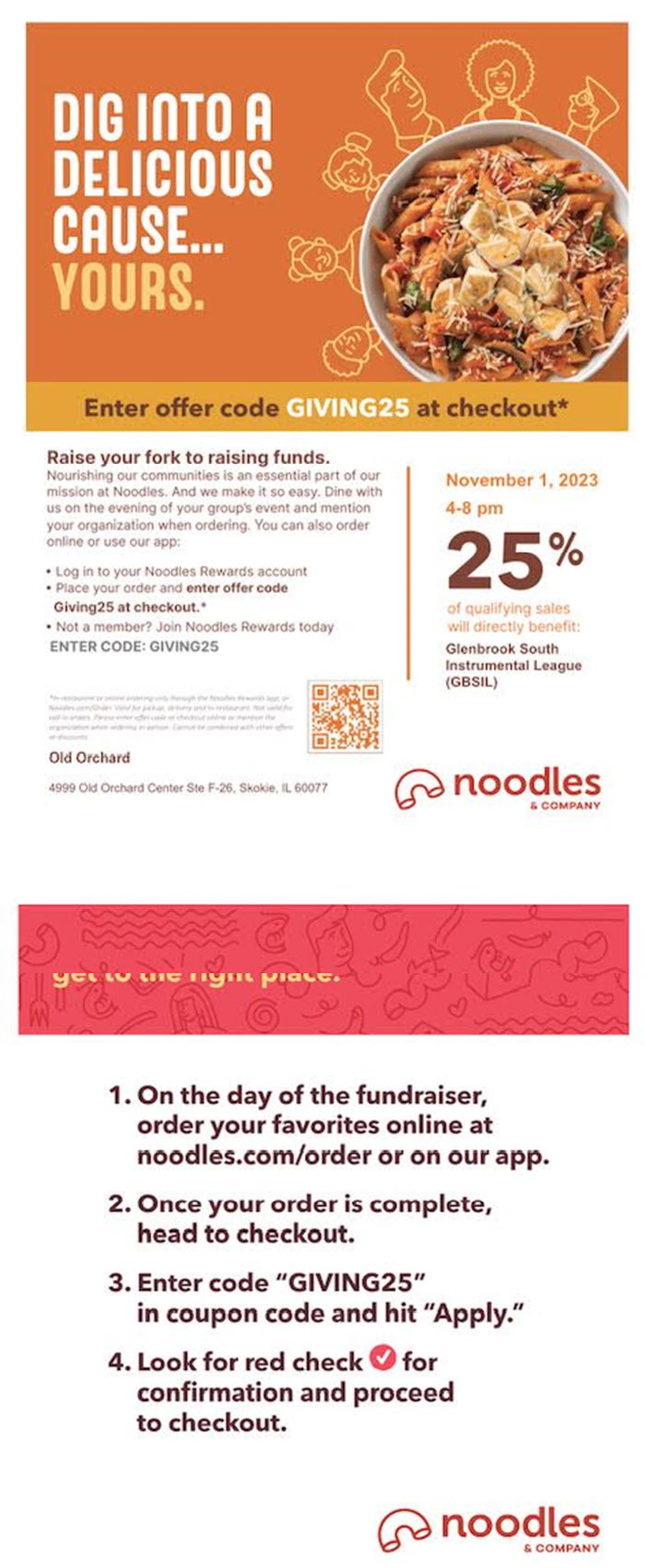 ILMEA at GBS is this week!
URGENT NEED!
We need EVERY family's participation to make the ILMEA event on 11/4 successful!! 
55 adult slots still open!!
19 student slots still open!!
We need baked goods!!
(homemade or store bought)
Short on time? Donate $ via Venmo.
Venmo: @GBSIL-Band2023, 4 digit code: 0850
(Please put "Bake Sale" in the notes)
Please check out the links below for all the details and to sign up!!
LMEA District 7 Festival
Saturday, November 4th
GBS is hosting the ILMEA District 7 Senior/Junior Festival in an all-day event. Over 1000 students/teachers/staff will be attending this event!! We need many volunteers to help make the event successful. Please take a look at the links below and sign up. We are looking for both student and adult volunteers to help at the actual event, as well as donations of beverages & baked goods.
Student Sign-Up: Click here
Adult Sign-Up: Click here
Donate Beverages/Baked Goods: Click here
Student Fundraisers
Cheesecakes arrive on Tuesday, 11/7. 
We need help sorting orders from 1:45-3:30 p.m. in the band room. 
Click here to sign up!
Delivery:  Tuesday, 11/7 – pick up from band room 3:15-5:30 p.m.
Cheesecakes will arrive frozen & will be delivered to the band room on Tuesday, 11/7. Orders must be picked up after school that day, no later than 5:30 p.m.
Questions? Please contact:
Tim Heublein – timheublein6@comcast.net
847-650-0031
Fun Pasta
Complete instructions on how the fundraiser works can be found here.

Check out these YouTube videos for assistance:
How to set up the app: Click here.
Place app order: Click here.
Additional info: Click here.

For questions, please contact Laura Ashley:
773-454-6031, lauramcashley@gmail.com