Schedule for the Week
Thursday: Jazz Band Rehearsal, 4:30-6:30pm
Upcoming Events
May 4: Spring Concert
May 8: Jazz Showcase in Chicago
May 16: Jazz Night
May 20: Band kickball game
May 23: Band Banquet
Director's Notes
Hello Band Families!
Congratulations to Glenbrook South Indoor Percussion on their final performance of the season yesterday! The group had a wonderful performance of their show, "Valiant."

This week is the musical, and many band students are involved! Jazz Band will be running this week, but we will be ending at 6:30 to minimize conflicts. Students involved in the musical are excused from jazz this week.
Our final concert of the year is coming up on May 4th! We will be holding dress rehearsals after school on May 3rd. The schedule for dress rehearsals will be finalized and published this week.

If you have any questions, please feel free to contact me!
One Band, One Family! Mr. Brian Boron, Band Director, bboron@glenbrook225.org, 847-486-4437
You're Invited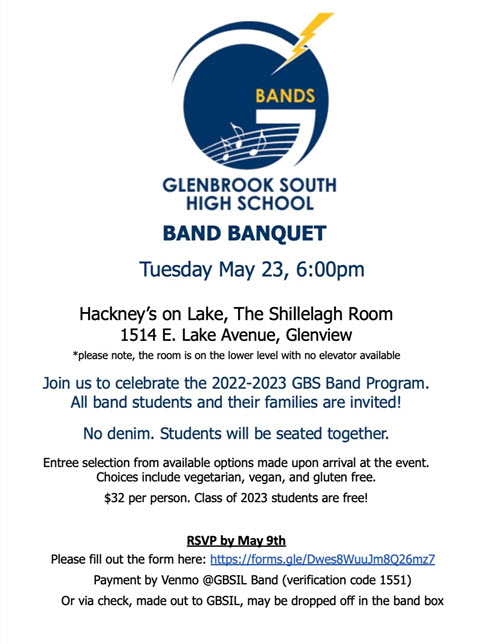 Indoor Percussion
Congrats on a great performance at GBS on Saturday!

Indoor students, if you haven't submitted fees, please do so soon. Your contribution supports this year's  program and will help the program continue to build and grow.