Schedule for the Week
Thursday: V-Show cast meeting (more info below), 11:30-12:30
Thursday: Jazz Band, 4:30-7:30pm
Friday: North Shore Honor Band (select students only), 4:45pm call time in band room
Saturday: Indoor percussion rehearsal
Upcoming Events
Jan. 19: Jazz Cafe and Silent Auction
Director's Notes
Hello Band Families!
We have reached the final week of first semester! I wish everyone the best on all finals!
This Thursday, we will be meeting at the regular time for Jazz Band rehearsal since we have a performance on January 19th! The timeline for the 19th will be released this week once all logistics are finalized.
This Friday and Saturday, 15 students will be participating in the North Shore Honor Band, which is a two-day festival run with nine other schools in our area. These students will be working with guest conductors, meet student musicians from other schools, and play excellent repertoire!
Variety Show Pit rehearsals will begin after finals week. The sign-up form will be posted in each class's Google Classroom. The full pit schedule can be found here. Anyone who will be participating in the pit must attend the cast meeting this Thursday.
The Indoor Percussion schedule is available here. There will be rehearsal this Saturday, January 14th.

If you have any questions, please feel free to contact me!
One Band, One Family! Mr. Brian Boron, Band Director, bboron@glenbrook225.org, 847-486-4437
Help Needed for Jazz Cafe and Silent Auction Jan. 19
Refreshments, Volunteers, Auction Items 
We are going to have a great evening of music, tasty treats and fundraising for our band programs, with your help!

If you would like to donate baked goods or snacks for this event, please follow this link to see what is needed and sign up:
https://www.signupgenius.com/go/10C0C49A4A72AABF49-jazz1

Volunteer to help out with set up, clean up, or with refreshments, or the auction during the event. Please sign up here:
https://www.signupgenius.com/go/10C0C49A4A72AABF49-jazz

The Silent Auction could still use donations. If you have something likely to draw bids at auction, please email GBSJazzCafe2023@gmail.com specifying what you can donate, the value of the donation, and your contact information.

Questions? Contact Julie Bretz at 414-870-6395, Laura Ashley at 773-454-6031, or email us at GBSJazzCafe2023@gmail.com.

Mark you calendars! Invite Your Family and Friends!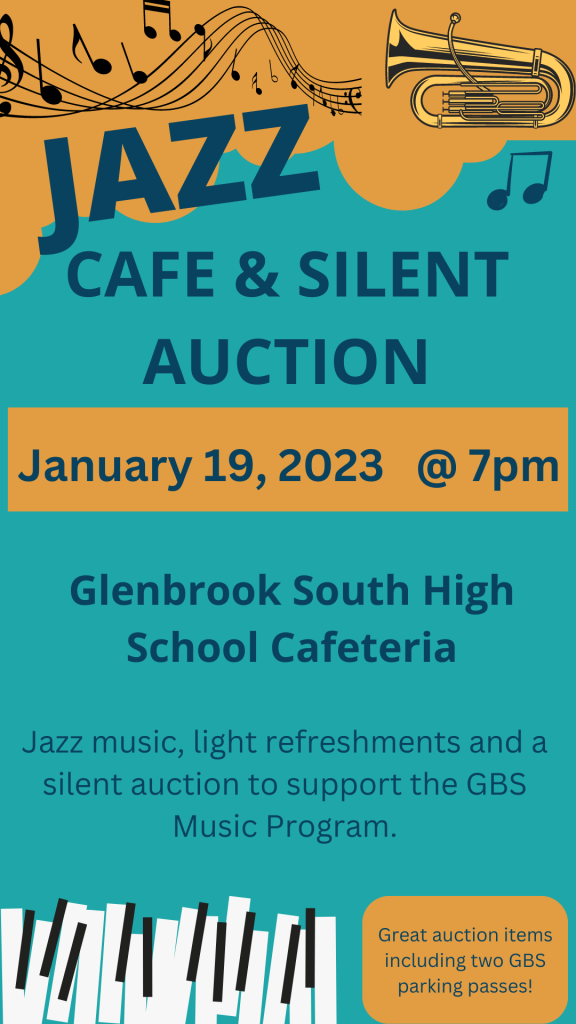 Pep Band Schedule
Download the pep band schedule here. 
Photos wanted
Do you have photos of the winter concert you could share? We are always looking for images to update our website or include in the end of year slide show. Please send photos to gbsbandprogram@gmail.com or upload to this dropbox.